Commitment to Canadian Communities
Chapter 5
Commitment to Canadian Communities
by Matthew J. Bellamy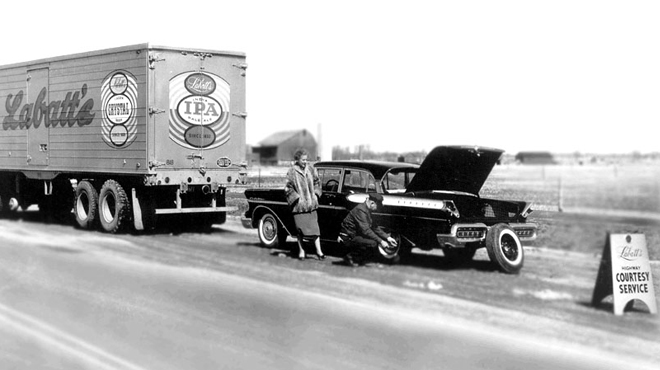 A Labatt driver helps a stranded motorist as part of Labatt's Roadside Assistance Program, c. 1950.
Community Support
In 1935, Walter Smith joined Labatt and took up work as a truck driver. At a time when trucks were replacing railroads as the principal means of getting Labatt's beer to market, the company introduced its Highway Courtesy Program to assist motorists who were in trouble. Late one evening, as he was heading back to London from Toronto in tandem with another Labatt truck, Smith saw four women in distress in their car on the side of the road. The women had pulled over because the headlights on their car were not working and they found it impossible to drive in the dark. Smith pulled over and reassured the women that everything would be alright. He told the women to start their car and drive between the two Labatt trucks, which would light the way to the nearest service station. Less than an hour later, the group arrived safely in Brantford, where the car was fixed. The episode was one of over 50,000 in which Labatt helped drivers in difficulty.
For more than 150 years Labatt has been a socially responsible corporation, meeting the needs of its shareholders by generating a healthy long-term profit, using its business power in a responsible way, integrating the demands of society into its daily operations, and contributing to the good of society.
Soon after the company's founding, John Kinder Labatt established the tradition of giving support to the community. During the severe depression that gripped Upper Canada in the late 1850s, John Labatt donated 1,000 pounds of flour to London families, and after the University of Western Ontario was founded in 1878, the brewer began making regular financial contributions to this London-based institution of higher education.
During the Great Depression, when many Canadians were out of work, Labatt loyally kept its employees busy brewing beer. In 1937, forty-five of these employees joined the St. John Ambulance Brigade and were trained in first aid. The training was put to good use when the Thames River overflowed and flooded major sections of London in the spring of 1937. During the "flood terror" which drove ten thousand Londoners from their homes, Labatt employees pumped out residential basements, public service buildings, hotels and businesses. In the wake of the flood, Labatt purchased Tecumseh Park and in 1940 presented the renamed Labatt Park to the City of London.
During World War II, Labatt responded to heating fuel shortages by obtaining and selling cords of wood to employees at cost. At the same time, Labatt's employees transported coal to families in the London area.
Labatt's employees were there again in 1948 when disaster struck for a second time as the Grand and Thames Rivers overflowed and flooded. Labatt employees operated pumps in the Walkerton Bell Telephone switchboard room for eight days, and assisted businesses and homes in Galt, Paris, Boughdale, and Chatham, Ontario. Shortly after "the flood of forty-eight," Labatt created the Mobile Disaster Service to deal with similar catastrophes in the future.
As Labatt grew during the 1960s, 70s and 80s to become Canada's biggest brewer, it continued to support its communities, recognizing that giving back was key to a sustainable approach to its business. In June 1987, Labatt launched its annual 24-Hour Relay in London, Ontario – a community fundraising event where teams of family and friends, work colleagues and volunteers came together to walk or run in support of children, youth and families served by the Children's Aid Society of London and Middlesex.
But one of the greatest gifts to the national community came in 2011, when Labatt donated its corporate archive to the University of Western Ontario in its hometown of London, Ontario. At the same time, Labatt also donated the Labatt Material Culture Collection to Museum London. The transfer of the archives established a benchmark in heritage donations as the Canadian government deemed the material to be of "outstanding significance and national importance." Appraised at approximately $8.3 million, the collection is one of the largest corporate archives in Canada. Contained in over 2,600 boxes and spanning the period 1832 to 2009, it comprises some 450 linear meters of textual documents, more than 45,000 photographs and illustrations, and almost 15,000 audio-visual items. The collection is accessible to scholars and the public alike and gives profound new insights into the evolution of one of Canada's oldest and most successful businesses and the industry of which Labatt is a vital part.
In 2012, Labatt launched its Disaster Relief Program. This initiative involves Labatt co-operate with provincial and local governments and other authorities to provide assistance to communities in distress. Since the requirements often vary from province to province, the government-run emergency management organizations generally use a "triage" system to identify those communities most in need of essentials and support, including safe drinking water. This public system provides an effective mechanism for Labatt and local officials to work together to respond to a community in need.
Since 2013 the Disaster Relief Program has seen Labatt ship more than 350,000 cans of safe drinking water to communities across Canada. In the process of producing and packaging the drinking water at its London brewery, Labatt has applies the same standards used in brewing its beer so as to guarantee that the water is of the highest quality. This water was sent to the residents of Fort McMurray in 2016 when a devastating wildfire – dubbed "the Beast" – destroyed much of the hamlet. Labatt also provided relief after a record drought in Nova Scotia, an ice storm in New Brunswick, an oil spill in the North Saskatchewan River and a forest fire in B.C.
And in 2016, the company introduced Labatt Better Together, an employee-run registered charity. The charity focuses on grants that provide basics such as food, clothing and paramedical support services directly to Canadian individuals and families in need. In communities across the country, Labatt Better Together aims to alleviate the hardships of poverty and contribute to the wellbeing of others.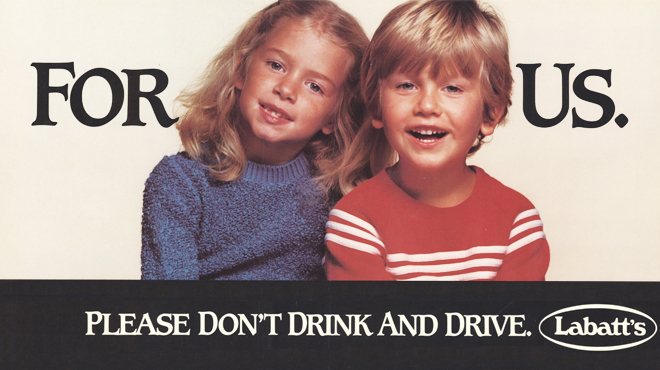 "For Us," the groundbreaking first ad in Labatt's Please Don't Drink and Drive program, 1982.
Moderation
In the early-morning hours of Christmas Day 1936, a man lost control of his car and went careening across the intersection of Jarvis and Fleet Streets in Toronto. Under the influence of alcohol, he was unable to avoid a sixty-five-year-old pedestrian who had woken up early to walk his dog. Both man and dog were killed instantly. That day, more than 100 motor accidents occurred in Toronto, most of them attributable to alcohol. The Globe and Mail pronounced it "the blackest Christmas in the history of the city."
Labatt knew the brewers needed to be out in front of the issue. On January 6, 1937, Hugh Labatt, the fifty-three-year-old vice-president (and grandson of founder John Labatt) stated the brewery that bore his family name needed to put "the industry on a high plane and in a proper light, which might help to safeguard the future of the business."
In the months that followed, Labatt launched an educational campaign to encourage the population to drink beer moderately and responsibly. Over the next year and a half, full page ads appeared in the press. Labatt used cause marketing to influence the behavior of Canadians in order to improve their welfare and that of the society of which they were a part.
In one widely circulated cause marketing piece entitled "A Dialogue on Moderation," Labatt told Canadians that the "ideal citizen" understood their obligation to the community, and reflected this by "avoiding of extremes, being temperate in conduct." Moderation was a Canadian way of life, a means of reconciling the tension between self-indulgence and social well-being, between the pursuit of pleasure and delayed gratification. Labatt's educational campaign helped cement moderation among our national values.
Having influenced Canadians to drink moderately, Labatt turned its attention to reducing the level of impaired driving in society. During the 1980s, western societies began to take the issue of impaired driving seriously. In Canada, grassroots organizations like Mothers Against Drunk Driving began to educate the public about the dangers of driving while under the influence of alcohol. At the same time, these anti-impaired-driving interest groups began to lobby the government for stricter laws to prevent driving while intoxicated.
In the spring of 1982, Labatt became the first brewer in North America to launch an anti-impaired-driving campaign when its ads "For Us, Please Don't Drink and Drive" began appearing on the billboards of the nation. Along with the brewery's subsequent "Don't drink and drive" campaigns, it played a role in reducing the incidents of impaired driving in Canada. The campaign aimed at shifting the culture around the issue of drinking and driving in order to get people to take responsibility for their actions and to think twice before getting behind the wheel after consuming alcohol.
The original campaign was replaced after a few years by a "homing device" theme. The new campaign consisted mainly of a print ad and posters showing a cab or a bus as the "homing device." These ads went beyond the first ads in that they not only politely instructed the citizens not to drink and drive but also offered a resolution to the social problem in the form of a safe way home.
The ads were accompanied by a television commercial called "Show Me." The "Show Me" commercial depicted young adult male drinkers coming out of a bar and getting on public transit or into a cab. The soundtrack in the background of the commercial was based on the old "Show Me the Way to Go Home" song. It showed that responsible preplanning was not incompatible with having a good time or with beer drinking. Labatt's anti-impaired-driving campaign continued into the 1990s and the twenty-first century.
Since the campaign was launched over thirty years ago, the number of impaired driving incidents in Canada have declined by sixty-five percent while the incidence of impaired driving causing death has fallen by fifty-five percent and the incidence of impaired driving causing bodily harm fell by almost three-quarters. Canada thus became a much more "civilized" place when it came to drinking and driving.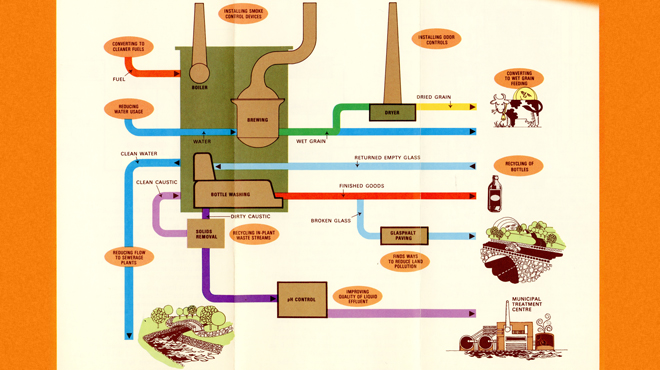 In response to requests from the public, Labatt produces "Labatt and the Environment," a pamphlet outlining the company's environmental protection efforts, 1971.
Environmental Awareness
Labatt has long placed a high value on environmental stewardship, making it a key focus of its everyday operation. The company has attempted to operate more efficiently and maintain its quality standards, while carefully assessing its impact on the environment. As early as 1969, Labatt undertook a $2 million-dollar modernization and expansion program at its Industrial Grain Products subsidiary in Fort William (now Thunder Bay). The expansion was designed to reduce losses in waste streams so as to cut pollution levels in the Kam River, while at the same time making the plant the most efficient of its kind in North America. A few years later, Labatt launched the "Labatt People in Action" program to provide students with valuable career-related experience. The program evolved to include assistance to environmental projects. Efforts like these resulted in Labatt being recognized as a Top 100 Employer for Young People for three consecutive years beginning in 2015, and one of Canada's Greenest Employers.
In 1994, Labatt's Board of Directors adopted environmental protection policies and management procedures, which included co-operating with government to develop environmental standards, and incorporating sound environmental considerations in engineering design and long-term planning.
In addition to promoting efficiency and avoiding waste, those at Labatt also recognized that they had a role to play in tackling the challenge of freshwater availability and quality. In 2011, Labatt's brewery employees across Canada identified a number of resource-saving opportunities and came up with low- and no-cost solutions that reconfigured existing processes and reused existing equipment. For example, the Montreal brewery began saving 300,000 hl of water and $60,000 annually by using hot water from another process to rinse the beechwood chips used to brew the "King of Beers," Budweiser. In Edmonton, the Budweiser brewing team took the centrifuge offline when they foresaw more than one hour of idle time. This conservation measure saved enough water to supply 18 homes and enough electricity to power 150 households annually.
Over the course of its history, Labatt has responded to public and political pressure in a way that has reconciled its business interests with the demands of society. Labatt's campaigns in the realms of community support, responsible drinking and environmental sustainability demonstrate that there is a rational justification for businesses to act in a socially responsible way; that contrary to the neo-conservative economist Milton Friedman's insistence that "the business of business is business," corporations can maximize profits and improve the society in which they operate by utilizing their financial capital, managerial talent and functional expertise to tackle society's most pressing problems.
About Matthew J. Bellamy
Dr. Matthew J. Bellamy is an associate professor of history at Carleton University. He was the first researcher to fully utilize the Labatt Brewing Company Collection at Western Archives, and his work on the history of Canadian brewing has been published in The Walrus, Canada's History Magazine, Legion Magazine, the Carleton Historical Review, Brewery History and the International Journal of Business History. In 2006, Dr. Bellamy won the National Business Book award, and he is currently working on a book-length history of Labatt.